Click the following link to view the original post:
http://combatarms.nexon.net/News/View.aspx?boardNo=101&contentNo=007pa&pageIndex=1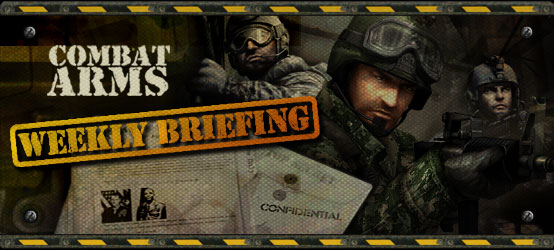 Official Communiqué: Combat Arms Command, May 21, 2010
Attention Soldiers!
We're winding down Specialist Month this week as May draws to a close. Next week is your last chance to take advantage of our incredible GP sales (this week you can pick up the REC7) and get in on all of May's great events. The REC7 is also our Item of the Week this week and we're going to check out what your fellow Combat Arms soldiers have to say about it. We also came across a great series of Combat Arms video reviews on YouTube you're going to want to check out. Check out everything that happened this week in Combat Arms, and always remember that violence is never the answer -- but it can eliminate the people asking the questions.
Headlines

Ongoing: Weekly GP Weapon Sales
All this month we've been bringing you exclusive and exciting sales. These are no ordinary sales though. We've been offering a rotating series of NX Exclusive weapons and making them available for GP purchase! This amazing opportunity concludes this week with the REC7. Act before this sale ends on May 26th.
Get the details here

Ongoing: May is Specialist Month
Scorpion! Viper! Hawk! The names of the terror-inspiring elite are being celebrated this month with a host of Specialist-related events and once-in a lifetime sales. Check this notice for some current sales and act fast before time runs out!
Get the details here
Events

Ongoing: Bombing Run
You could win one of 20 Supply Crate MYST-N and Weapon Renewal Kit packages if you complete 30 games of Bombing Run by May 24th!
Kaboom!
Ongoing: ACR Extraordinaire
You'll get a Supply Case GIFT-N just for getting 100 kills with either the ACR or the ACR Sandfire by May 24th!
Pew Pew!
Ongoing: Explore Kill Creek
You'll get a Supply Case GIFT-N just by completing 30 matches on Kill Creek by May 24th!
Learn more about it
Ongoing: Clan Match Event
You'll get a 10-use 100% Bonus EXP Pass for completing 15 Clan matches by May 24th!
Group up
Item of the Week
REC7

This week's item of the week is the REC7. Part of the M16 and M4 family of rifles, its new 6.8mm rounds give the REC7 powerful fire without a massive kick. The consensus on this gun is that it's best described as a great "all-around" gun for close to mid-range combat in maps like Junk Flea, Gravedigger and especially Two Towers. It's a good close in weapon thanks to its impressive stopping power and low recoil but the built in site also make it a decent weapon for mid-range combat. While there are better weapons for close-in work and general combat, the REC7 is a wonderful rifle mostly due its versatility rather than any specialty.
Let's see what a few of your fellow Combat Arms players had to say:
"The REC7 is basically the advanced version of the M417. I try to pick up M417's because of how great a gun it is, but since this came out on CA, it has been Heaven for me." – Josh F.
"When I pick up a gun that looks like an M417 and it's really an REC7, I start dancing because I just noticed that I just got one of the best weapons in Combat Arms." – Joey V.
"This gun is great. It has an itech scope on it. It has a great fire rate, great power and low recoil. I use this gun in Gravedigger Elimination Pro when there are people who rush together underground, so it's easy to get a double kill in three seconds of shooting. This gun is a multi-purpose gun where you can snipe with the low recoil and use it in close-quarter combat with the fast firing. Overall, this is an excellent gun, one that should be looked high upon."- David F.
Details on the REC7
Community Spotlight
FrostFire626's Guide to Combat Arms
If you've never seen FrostFire626's posts, you're in for a treat. This is an extensive guide with everything you need to know to become a master soldier in Combat Arms. There are sections on everything from improving your KDR to sniping to the Tao of mines to the all-important lessons on how not get get hit. Check it out and get better fast, soldier!
Check it out!
Combat Arms on Facebook
Have you joined us on Facebook yet?
We've hit 40,000+ Facebook fans and celebrated by tossing some foam grenades to our loyal fans. Now we can't wait to get to 50,000! Join today to keep up with the latest on Combat Arms, take part in some fun activities, win contests and maybe even get yourself quoted in the Weekly Briefing. Tell your friends that the Combat Arms Facebook page is the place to be!