Hope this formats correctly
Sword Lann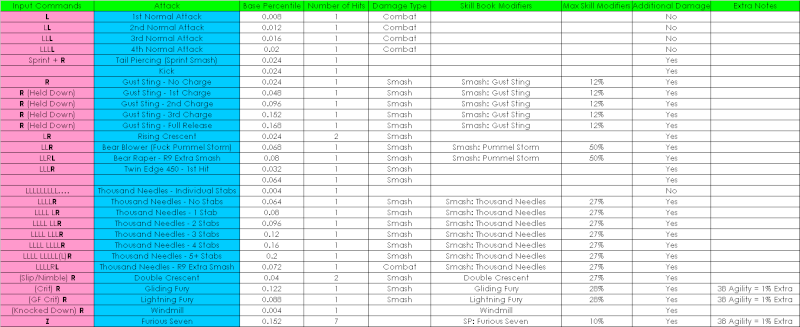 Spear Lann
Sword Fiona

Hammer Fiona

Staff Evie
Scythe Evie
Evie Alchemy Toolbox (Golem and Mana Pistol)

Pillar Karok
Translated from:
(Lann)
http://www.inven.co.kr/board/powerbbs.php?come_idx=2028&l=15876
(Fiona)
http://www.inven.co.kr/board/powerbbs.php?come_idx=2028&l=15875
(Evie)
http://www.inven.co.kr/board/powerbbs.php?come_idx=2034&l=145645
(Karok)
http://www.inven.co.kr/board/powerbbs.php?come_idx=2028&l=15874
Some notes:
I put the "input" column in because I know that there are probably some people unfamiliar with the actual names, so I just put that so they could alternatively understand what's what by going off the mouse controls.
I also included what the extra bonus %'s were for maxed out skills. For example, next to Amaranth Kick I have 22% written down because R6 Smash: Amaranth Kick gives you a 22% damage boost. If any of that is incorrect, please tell me.
In the rightmost column of the Korean Fiona charts, there's a column I didn't include. That simply tells you whether the attack is capable of critting or not. The only important thing to note (that you should know if you roll a Fiona already) is that Hammer normal attacks can crit, Sword normal attacks cannot.
There is an unaccounted for column on the Korean Evie charts if you'll notice (the far left, next to the names of the attacks). All that column says is whether the move is Staff/Scythe specific, or if it's usable by both. Should be unnecessary for you guys.
The second column from the right on the Korean Evie charts denotes what kind of Critical Hit it deals. The ones in the Staffie chart all say Magic when it has something written, and the other word in the Scythie charts say General. That's kinda noteworthy but pretty self explanatory and obvious. If you guys would like, I'll make another column for it, but you should be able to figure it out. If it's a magic attack and can crit, it uses Magic Critical Hits and the accompanying formula. Otherwise, if it crits and isn't magic, it's "general" (uses the normal Critical Hit skill).
The ?'s on the Karok chart can be ignored. The Korean charts say "Smash/Combat (Mastery) Unapplied". That's unfortunate, but whatever.
I'd put up my damage calculation guide for which these charts were made for, but Nexon's forums are just way too sh!tty for me to stand. It's sad that a free board is more feature rich and easier to use than these.
Daraku9:
(originally uploaded by omgwtflolbbl)
damage formula is (ATK - DEF +900 + extra damage * 6.25)* percentile * (1 + Base Mastery % + Mastery%)
ATK = attack damage
DEF = enemy defence
extra damage = damage from enhancements
percentile = percents from charts above
Base Mastery = masteries such as smash mastery or magic mastery
Mastery = specific skill mastery such as Aramanth kick