This was on the old site and I plan on releasing version 1.6 this weekend but for the meantime this is a placeholder (the newer one will be color coded like the old one to save your eyes).
Because of the amount of information each guide will cover the weapons to bring, general tactics, specific tactics for each area and then finally general tips.
Updates
version 1.0 (expect some grammar flaws, missing important points, incomplete analysis on what you do somewhere when you are a certain team and obviously, this guide to become completely out of date eventually)
version 1.1 added in disclaimer which I forgot to add in version 1.0
version 1.2 colored some thing that weren't and added a few points.
version 1.3 added the CTF section.
version 1.4 changed obvious grammatical errors and colored in some numbers that were not colored in
version 1.5 massive grammar overhaul and added in a few missing points
version 1.6 massive grammar overhaul in the CTF section, recolored everything and added more missing points
version 1.7 added the underground guide for the CTF and Elimination sections and a bit more to the mine section.
version 2.0 complete overhaul to better use the new HUD and map layouts
Elimination:
Weapons:
You should bring at least 2 weapons to Snow Valley. The first should be any automatic weapon other than machine guns since they will make you an easy target because of your reduced speed. The reason this should be first is because often times an enemy will camp in your base or will be near where you are so it is best to spray them with bullets since they will probably be in close range anyway. If your weapon can be scoped then buy a scope for it (other than pistols) because this allows you to snipe down enemies from mid range. If you miss it could become a close range firefight and you will already have out a close range weapon. The only time you wouldn't scope your weapon is if that weapon happened to be an SMG or you just want to practice shooting without a scope and are not attaching a scope to prevent yourself from using one. Your second weapon should be a sniper rifle so you can snipe enemies from a far distance. Practically any sniper rifle will do but take note that the L9's accuracy will make it difficult for you to snipe people from a far distance even if you aimed the shot perfectly and 2 hit kill guns such as the SR-25 might become a 3 hit kill instead of 2 on far away targets. The M14 is not a sniper substitute because you have to use a 1.5x or less magnification scope so the G36E would be a better sniper substitute (although the damage drop off on the G36E makes it ineffective for the super long shots unless you tap fire at the face for a headshot). As far as specific guns go you should pick whatever guns you like although guns with good scopes tend to be the best.
Equipment:
Like nearly every map in CA, Speed = life. You are going to want as much speed gear as possible since it will make it harder for your opponents to hit you and because it will allow you to rush more effectively while becoming weaker to shots. Since you are going to be faster it will make it harder to shoot you which will make up for most of the armor loss. The only time armor should be useful in elimination mode is if you are going to be camping anyway and want the bonus of armor so that you can tank sniper shots more often.
Strategy:
For the rest of the Elimination guide refer to the map.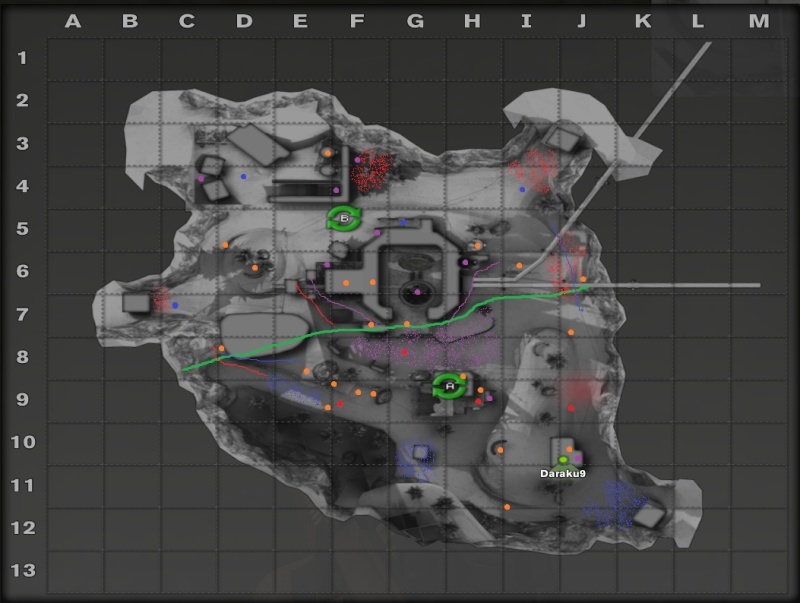 Before you just skip over the map and continue reading you first need to learn how to make the most out of it. Firstly each square is around 20 ATU (ACOG TA1 Units. I'm going to be using this unit along with the squares as general measurements used in the guide) wide. This measurement only applies to Snow Valley for our purposes since it isn't always 20 ATU wide (for example each square is around 10 ATU wide for Sector 25) and is approximately 10 wide since as you can see each square is actually a little wider than they are tall. Below is a small chart with approximations for the maximum range and AOE of support weapons in ATU (The ranges were tested on flat ground and were thrown without jumping.
| | | |
| --- | --- | --- |
| Weapon | Range | AOE |
| M67 Frag | 20 | 10 |
| M69 Frag | 20 | 8 |
| Heart Beat Sensor | 30 | 8* |
| G7A Gas | 20 | 8 |
| M23F Incendiary | 20 | 8 |
| XM84 Flash | 30 | 15** |
| M18 Smoke | 30 | 15 |
| Range of hearing | 20 | N/A |
*5 refers to how far someone can be sensed vertically from your cursor instead of AOE. The width of your range is equal to your range of vision.
**effect is dependent on how close you are to the explosion and if you are facing it or not and any flash protection.
Legend:
Green line: The area that is generally occupied by each team (the top side is Bravo and the bottom side is Alpha. If you travel to your enemys' side you are more likely to run into enemies.
Purple lines: General paths that either side use to rush each other. (All of the paths have been oversimplified since people tend to vary their rushing paths.
Blue Lines: Areas where Bravo tends to rush from.
Red Lines: Areas where Alpha tends to rush from
Orange Dots: Typical sniping locations. (these locations are not designated to a team since either team can use them depending on the situation.
Purple Dots: Areas where enemies tend to run to to reload or hide for a while either to loose some aggro, camp or make a last stand.
Red Dots: Alpha spawning points
Blue Dots: Bravo spawning points.
Red Zones: Areas where Alpha players shouldn't go or stay in for long (either because it has no cover or is in a position where you can easily be killed by an enemy).
Blue Zones: Areas where Bravo players shouldn't go or stay in for long.
Purple Zones: Areas where either team shouldn't go or stay in for long.
The rest of the guide will use the Coordinate system on the map to point out locations of interest. Some locations of interest are not exactly in a coordinate so you will have to infer the location for a few.
General Alpha guide:
If you joined at the start of the game and have the fastest internet connection speed you will end up in spawn point J10 while the person with the fastest connection speed on bravo will spawn in D4. The main strategy is to camp at F9, H9 or I10 since Alpha's camping points are more fortified than Bravo's and rush Bravo since the spawning point at G8 is right next to the team boundaries and it is easy to hide in Bravo's space since it is bigger so you won't run into large groups of enemies as often which will make it easier to pick people off.
General Bravo guide:
Bravo's typical strategy is to counter snipe at C8, F6, G7 and I7. It is easier to kill a lot of Alpha players in a short period of time when rushing since they tend be clumped together to camp but since Alpha's area is smaller is is much easier to get overwhelmed by enemies and die.
Area Specific guide (Coordinates of interest run left to right, top to bottom:
E3
:
Alpha: People who rush in from the underground entrance nearby often go there to kill people at I4, D6 and F6 since they are easy to kill from that position and because it is harder to kill them from other locations in control by Alpha. Sometimes Alpha members will hide here to camp a bit when low on health after rushing or drop down to F4.
Bravo: This is a relatively unused location because in effect being here is camping your own base but this area is useful for killing people who are constantly rushing your base since you can always crouch to drop down once they see you. Once you have dropped they usually won't try to kill you because there is a Bravo spawn point right near by and getting to you will mean walking right through it.
C4
:
Alpha: This location is often used to hide from Bravo players who are looking for you after rushing their base. It is right next to a Bravo spawn point so you will be cornered if some one looks for you there but if they don't you can kill people after their spawn shield ends and start raiding Bravo again.
Bravo: Afkers usually sit here and stare at the wall. Sometimes people will use this area to shoot Alpha rushers that are running in from the east side of the map.
F4
:
Alpha: This is an area that alpha rushers will sometimes go from E3 although it is highly suggested that you don't go here since it is close to all of Bravo's spawn points and there is no where to escape without going near a Bravo spawn point.
Bravo: This is a fairly good place to get cover if an Alpha rusher takes over C6 and starts shooting at you .
I4
:
Alpha: It is recommended that you never go here because you will have to run to H6 to get cover if a Bravo member re spawns right in front of you.
Bravo: Bravo members will sometimes use the hill here to camp and shoot Bravo sniping areas that have been taken over by people rushing in from alpha although you will be an easy target for someone at H8 and alpha rushers who come in from H6.
D5
:
Alpha: This area is often used by both teams to snipe at people who are in the east side of Bravo's territory. Since it is low and has decent cover you can also use it to snipe at people south of that location.
Bravo: refer to Alpha.
G5
:
Alpha: Bravo spawning point. This area is typically mined by both teams since it is an easy way to access the areas around the tower from that area.
Bravo: Since it is a spawning point you can step on mines placed by alpha to detonate then while you still have your spawn shield on.
H5
:
Alpha: This is an area that is often used to shoot people at I6, F6 and stragglers who are running from place to place. If a lot of people try to kill you then you can run into the nearby underground entrance and escape. This underground entrance is also a great place to attack people at I6.
Bravo: There is a convenient tree here that makes it hard for people on I10 to see you which will allow you to snipe at F8, F6 H9 and most of the map in general. If things get bad you can climb to the top and land on the platform or crouch and fall to the bottom.
C6
:
Alpha: N/A
Bravo: This is a great spot to snipe people who are trying to rush in from the tunnel at C7. This area also happens to be out of range of alpha grenades so you won't have to worry as much unless someone comes in from D7 or the valley.
D6
:
Alpha: This is a great sniping location and if you take over this are you can make it hard for Bravo players to get back here without having to spawn at C7. If someone from Bravo tries to counter rush you you can run around the hill and use the cover to kill them
Bravo: This is the Bravo Hill which is one of the main camping points on Bravo since there is a great view of H9, F7, and noobs who stay too long in the valley. Alpha players are often rushing in but if you use the environment to your advantage you can easily counter them and get some free kills.
E6
:
Alpha: Alpha members rush through here and either use it to get to the tower, rush people on the east side of Bravo side or go around Bravo hill to kill people there.
Bravo: Since Alpha members rush through here so often sometimes Bravo players will mine this area. They can also go around this way and flank Alpha rushers from behind if they decide to go straight up the hill instead of through this side.
F6
:
Alpha: The tower is used extensively to control both sides of the map. There is little cover on the tower so you will have to stay on the edge that you team is on so they can cover you and kill people who could be sniping you from the side that you aren't on. Because of this it is very easy to kill people on the tower by sniping them from behind and it is crucial that you know what is going on on your side of the map. The tunnel is used by both teams to snipe at players then duck further in the tunnel to get cover. If someone gets too close then you can gun them down CQC
Bravo: Because Bravo side has a wider coverage of the tower it is much easier to kill Alpha players who get on it. The best way to take out an annoying sniper on the tower is the silos in E3 or bravo hill at C7. It is also possible to nade the tower by jumping an throwing a nade from the second level from the bottom. Bravo snipers have less of an advantage at using the tunnel under the tower since they can easily be sniped by people who are peaking in the corner of the fence at F9.
G6
:
Alpha: This is the small cover to the missile silo. Since it is a strategically bad place for Alpha members to be they usually either rush to G7 or fall down the hole (falling on the flaps first to minimize fall damage) to access the underground tunnels.
Bravo: Since Bravo is in control of this area Bravo members usually fall down here to go to G7 so they can snipe people on the hill, H9 and most of the north side of Alpha hill. On rare occasions someone will use the silo cap as cover and snipe Alpha members at F8.
H6
:
Alpha: This area is often used by both teams to wait until they think it is clear before they rush the enemy side. Note that this position can be easily sniped by someone on the tower so you can't wait there for long.
Bravo: Refer to Alpha
I6
:
Alpha: Taking this area out is a great way to kill Bravo players and incapacitate one of Bravo's fronts.It is not easy to snipe at this area from other locations and it isn't very easy to rush it unless you come from the underground entrance but there are usually a few unsuspecting players here who are free kills.
Bravo: This is one of the main Bravo sniping areas where you can snipe rushers from the valley, Alpha hill, F8 and H9. This area is constantly getting rushed so you will have to be at least somewhat aware of what is going on around you so you can shoot back if someone rushes you.
D7
:
Alpha: This pathway connects Bravo hill to the Valley. Bravo players will sometimes run down this path and try to rush H9. This is a strategically terrible choice since people at that location are usually looking in that direction but if not then it is an easy way to get a few kills.
Bravo: Sometimes Alpha members who spawned at G8 will try to go here and ambush people on the hill. If you are in a stalemate bettween Alpha members in the tunnel sometimes they will go around this way and try to kill you while you camp at C6 thinking they are still there camping in the tunnel.
F7
:
Alpha: This area is typically used to rush Bravo hill if you spwan at G8. There is some cover here but it isn't a very good idea to snipe people at F8 since you are in a fairly open area. This area can also be easily sniped by people at Bravo hill so you will need to watch out and snipe them back if bullets start flying in your direction.
Bravo: This is a great way to shoot at Alpha players at F8 but people from the valley are re spawning here often so you will need to be careful. Alpha members who climb up the barrels are also easy pray and killing people in this area is a great way to rack up kills on noobs.
G7
:
Alpha: This area is mostly just a travel area for Alpha since the cover is on the other side but it is also a great way to kill people on Bravo hill who don't have cover and you can go here to kill campers at I6.
Bravo: For the most part this area is used to harass people at H9 and shoot at people on Alpha hill. People often throw nades here or go here to nade H9. You will need to be careful of Alpha players spawning at the hill or at F8 who are trying to shoot at you since they will usually have better cover
J7
:
Alpha: Even though this area is seemingly in the middle of nowhere it is actually a very common place for people from bravo side to rush from and camp (for a short period of time). Watch for people at this point because they will usually go to J10 and camp you from Alpha hill which is quite a nuance since they can easily shoot people spawning in half of alpha side.
Bravo: Although this is a common place for bravo rushers to camp this isn't really a good place to do it. You can get shot from people spawning from 3 of alpha's spawn points and there is no where to escape except from alpha's underground tunnel. The upside to camping here is that it is very sneaky and you can catch alpha players off guard since alpha's main focus is looking at areas in the west side of the map instead of the east side.
D8
:
Alpha: For alpha players this is a fairly protected spot since the only sniping positions where d8 is vulnerable is in alpha control and there is a fence there blocking other sniping positions from view. Note that you will want to rush on the south side of the wooden fence since there are a lot of positions on bravo side that can easily snipe you from the north side.
Bravo: This is the side you DON'T want to rush from since snipers from the hill can easily kill you. Note that this area is in nade range up till around F9 so feel free to throw nades to kill off alpha members who get too close to the tunnel.
E8
:
Alpha: This area is sometimes used by alpha along with the other side of the rock to keep bravo members guessing which side they are going to shoot from. Overall this isn't that good of a tactic since you don't really have anywhere to run or crouch behind and all you are doing is using a rock as a bit of cover to prevent bravo players from seeing where you are.
Bravo: This is a really good place for a Bravo player to camp since they will be able to shoot at alpha players who spawn in the valley and at the same time its a long enough distance so that players who spawn at F9 will not be able to reach you in time before their invincibility runs out. Since you are in a bit of a corner you will not be able to stay there for long before someone from the valley nades you or someone manages to kill you in the last second of invulnerability.
F8
:
Alpha: The valley is often used by alpha players to camp people who are on bravo hill but overall it isn't really that effective since you won't be able to escape from the valley after your invincibly runs out. Bravo players at bravo hill could also just ignore you since you can't really shoot them unless they lean over their cover which would leave you vulnerable to bravo rushers going through the tunnel.
Bravo: You can get free kills from noobs who camp here from bravo hill. If they start rushing through the valley you can go to the exposed side of the valley to shoot them from behind although you will have to time it right otherwise you will be right in front of them or get sniped from alpha players.
G8
:
Alpha: Sometimes bravo rushers will come in this way to go up to F9 or H9 and kill people who are camping. To counter this just flank them as they rush in and make them look for you and team kill them with other team mates who just spawned.
Bravo: Refer to Alpha.
J8
:
Alpha: This is a spot that is often used by alpha players to kill bravo players who are camping at I6. Bravo players at the hill will have a clear view of your position so this isn't that good of a sniping spot though.
Bravo: Players here are easy targets for bravo players on the tower.
F9
:
Alpha: This is the place you should be camping when engaging bravo players who are rushing in from the tunnel. This is out of Nade range (unless they jump while throwing) and even if a nade does end up here you can just hide being the rock. There is ample cover from the snow which will give you an advantage. You have to be careful of bravo players who rush from D8 and skilled players will even nade the area from the valley which will give you no time to react. Although the tactic is much more common in CTF you can even nade the area from the tower if you throw the nade as far as possible (you don't have to jump to do this)
Bravo: Players here are a pain to kill although you can easily kill them in the ways mentioned above or rush from the valley to flank them from behind.
G9
:
Alpha: (this area refers to the inside areas of the house) Sometimes bravo players will camp here to catch alpha players off guard although they don't really have anywhere to run so it isn't much of a problem. There are numerous sniping positions here where you can snipe people from the broken, top left corner of the house along with inside the door (since your camo blends in fairly well with the inside of the house) and the window at the bottom where you can shoot/nade people at alpha hill who lean over too much.
Bravo: Running along the outside of the house is a great way to quickly travel around bravo side without attracting too much attention. Running inside the house will make it harder for alpha players to predict where you are going to be if you alternate which paths you take.
H9
:
Alpha: This is where alpha players can spawn and is sometimes used by players to snipe back at people at I6 (although for the most part they have a better chance of hitting you there if you are sniping from behind the barrels). Players here have a good view of the map and can snipe various locations but are extremely vulnerable from bravo rushers from the tunnel. This is also probably the most naded area in the whole map so you will need to watch for nades.
Bravo: Aggro bravo players sometimes run along this area either to go to the underground or snipe people off since this is sort of the center alpha where pros can accumulate a lot of accolades before they get shot down.
J9
:
Alpha: One of alpha's spawning locations. There isn't really anything useful about this place except shooting 1 or 2 people from here right after you spawn since it isn't really that protected.
Bravo: When camping on Alpha hill people spawning from here are your biggest threat since they can corner you against people who are rushing you from the bottom of the hill.
I10
:
Alpha: Alpha hill which has one of the best views of the whole map. It isn't very easy to get rushed from this area since you would have to rush a long distance in order to get here but to make up for it there are many counter sniping locations. The most problematic counter-sniping location is at G7 since people can ladder glitch and if done correctly, you won't be able see a single pixel of their hitbox. If someone gets a particularly good sniping position on you then just back off and hope their attention gets diverted so you can snipe them back.
Bravo: One of the best sniping positions against alpha since it is so hard to kill someone here and because you have a great view of all of alpha (aside from the valley). Nades that fall here are a little tricky since they will bounce a bit and make it hard for you to figure out where you should run to avoid the explosion. After you have killed a bunch of people and gotten the attention of people on alpha side you can loose aggro by going into the afk house or the underground although since the afk house is so oversused it might not be very effective since experienced players will usually check that area first when they can't find you but the top right side of the screen hasn't said you have died yet.
J10
:
Alpha: This is a little house that alpha players usually go afk in. The barrels on the roof along with the stairs are great places to shoot people who are rushing in from J7.
Bravo: Bravo players usually use this place to get a breather and hide for a while when they get too aggro.
I11
:
Alpha: Sometimes you can shoot bravo rushers from here if they don't notice you sneaking up on them.
Bravo: This is another great place for a bravo player to camp since there are only a few protected areas where alpha players can shoot you. Make sure someone who spawns at J9 doesn't sneak up on you though.
Underground:
For the underground section refer to the map below which you should also refer to in the CTF section since there aren't any new tactical areas in either place (image also from the CA strategy wiki like the other map)
Its not that good of an idea to go underground since almost no one goes there and there is no real way to combat some one who sneaks up from the underground other than staying on your toes and always being ready to gun down the enemy. Since it takes 3x more time to go the underground way than to rush most pros don't go underground and since no one goes there there is no point in camping there waiting to ambush people using the underground. On the other hand if your good at CQC rushing type tactics and have speed gear necessary to run around in an enemies' base then the underground could be utilized as a way to temporarily escape or escape to your side if you have too little hp so you can camp on your side until you die again. Since rushing underground isn't used very often you can get a few kills by taking your opponents by surprise but it isn't really worth the time unless you are getting a few kills on campers that would be harder to kill otherwise.
E1: Bravo's side and easily the most used underground entrance. People commonly rush from here but people nearby can hear you open the door and walk through the water so you have to be careful to avoid the water by jumping around it. The door to the underground is also sometimes heavily mined (from the inside) since it is extremely hard to demine. People rushing from this area often stand on the sides of the alpha bunker (makes you an easy target but gives you a good view point of people on the hill), run around Alpha bunker and even go to F9 or E8 to kill people who respawn or run to the hill to kill people from all of alpha's side except E8 (since its hard to see people there) and run back to E1. Often times people will camp in the underground if they know people are chasing them (more often if Kill cam is on) and shoot people through the door if people stand too close to it and leave themselves exposed.
E2: The most useless door in elimination for alpha since your 3 second invincibility should last you until you reach that area anyway if you respawn in the valley. It is also sometimes mined and people from Bravo sometimes go there to get to the other door they control or rush from E1.
E3: Unlike the other areas this is the most protected area and even though people respawn here you wont be shot by anyone except people who spawned here because of the walls. People sometimes go here to snipe from 12 to take out people in the tower or people running from place to place but the only place you an run to is C3 by falling through the hole in the wall and it might be a bit too far and people have a high chance of seeing you and shooting you down before you get there.
E4: The best area to get a few free kills since the people at I6 often don't check around them as much as they should. Since there is a chance that you will fall back down here accidentally (more people fall death in this area than in any other area in the map) your best option is to run to the valley to get to areas controlled by alpha, climb on top of the silo to get more kills, or go to the missile silo and camp there
E5: The hole in the missile silo. This area is completely useless in elimination and should not be used unless for some reason you ABSOLUTELY had to make an escape from the missile silo area for some extreme reason and falling down the other sides of the silo is not an option. Falling down the flaps can do anywhere from 5-70 damage to you (usually 30 or so though) and you will have to spend some time getting out of the underground so it really isn't worth it.
Mines: Mines can and should be placed all over the map. If you put several mines in the same place they guarantee you a kill (unless only one mine is set off) but if you separate them out so they aren't near each other your opponents will have to watch the floor more and will be hindered by the mines a lot more than if you just placed them all in one spot. As a rule of thumb try to to place mines where people often walk but try to space them so they won't blow them up. I could make a map showing where mines often placed and where the best places to put them are but the map would just end up being cluttered since it is pretty hard to fail with mine placement. You should also be placing mines in places that complement your strategy. For example if you are on Bravo team and you don't like people from alpha who are roaming your base and picking people off while you camp you can place mines randomly on the second floor of the tower. If you are on alpha team and are constantly being harassed by people coming from underground you can mine up the door to make an enemy blow them up to pass and alert you with the explosion.
Another useful trick with mine placement is just sticking single mines everywhere where people usually step without trying to deter people from being in a particular place. This thoroughly annoys rushers since it keeps them looking everywhere for mines and they will have no way of setting them off without running into them since shooting them will leave themselves vulnerable and allows everyone nearby to see you from hearing the explosion. The point of the tactic is to have 3x the mines everywhere since they are single mines instead of 3 in the same place so the mines will be everywhere and the point is to annoy your enemies and weaken them but not necessarily kill them. This can get you killed if you just stick them in open ground if someone shoots it but if you place them in paths or places where rushers need to run through it could be a valuable tactic. This is a somewhat bad tactic in CW since it your allies could get mined more easily but its a lot more effective in this map since the mines wouldn't be placed where they could be shot so easily unlike CQC maps and since the map is so big it is easier for you to spread them throughout the map instead of only your side in CQC maps since its easier to avoid enemies.
Sometimes people will place mines with enemy mines so that if someone walks on it they will think they are all allied mines and take 80 damage plus wipe out their allied mines which is useful if you are trying to take out mines that are hard to take out or to use as place makers for other rushers that are running through the area.
Tips and Tricks:
For some reason the fog is clearer on the sides of your screen so if you want to see somewhere really far from where you are you can look to the side and see past a lot of the fog.
If you can't see someone but know they are somewhere there then you can put your cross-hairs around the area where they should be and shoot when you see their name appear.
If your in a place thats heavily mined and you hear someone pulling a pin then run away just in case. If it turns out an ally pulled the pin and threw it somewhere useless like the tunnel without knowing if someone was there then it is a good sign that they are a noob and you should use them as a meat shield/ decoy.
Although its extremely hard to pull off it seems that nades are armored and can soak up a few bullets if you need to (although you shouldn't really throw a nade when your opponent is shooting at you anyway). Flash/fire/smoke/gas nades have health and can be detonated early so make sure you throw with an arc to prevent them from being shot.
For more tips refer to the tip section in the condensed guide.
Anti Hacker Tactics:
One of the biggest problems is the OPK hack since there is no way for you to reach them in time before they kill you again. What people don't realize is that you can nullify most forms of the OPK hack if you stand right in front of them if the hacker is on your team. Normally they could combat this by going to a spot where you can't like climb up the silo and hack there or block off the entrance to the tower with their body and hack on top of the tower but since hackers are stupid they find the only way to negate this is to create and use a fly hack. If they don't have a fly hack then pester the hell out of them and if they use a speed hack to outrun you then let them die on the slopes when they run too fast.
Capture the Flag Guide
Before I start writing extensively about strategies and such I'm going to tell you one simple fact about snow valley CTF. In CTF ALPHA SIDE SUCKS! I'll get into it in more detail later but alpha side is clearly at a disadvantage to bravo in many strategic ways. You won't have to worry about being screwed in alpha in CW since the sides swap halfway in the game but remember that even if you tie in flags the winner will be decided based on the total kills and deaths of a team and failed attempts to get the flag (in other words there is never a tie unless somehow all of those things are equal). Alpha side is at a huge disadvantage but it is still possible to base camp as alpha if bravo is full of noobs.
The tactics for each area is similar to Elimination but the areas that are controlled by both teams when one team is dominating is completely different. The green line is the new line of control of both sides. When alpha is doing well they will tend to take control of areas north east of the map while if Bravo is doing better they will take control of areas in the south west area of the map. Since it is easier for bravo to reclaim their lost territory and since the bottom left side of the map is a really fortified area bravo has a HUGE advantage over alpha. Despite this it is still very possible for alpha to win and I find that if Alpha is dominating over Bravo they will do better than if Bravo was owning Alpha because Alpha's flag retrieval routes are better than Bravo's and because the small fenced off area that bravo spawns from isn't as good of a camping spot as alpha hill.
Weapons
The weapons are the same as Elimination but semi auto guns like the MSG-90 and M107CQ are a bit more useful since they allow you to snipe at a farther range than most 1 hit kill snipers and they tend to have more ammo. The MSG-90 is still a 2 hit gun but if you miss you can quickly shoot again while the M107CQ is one hit but if you miss you will have to wait for the scope to go back down.
Alpha Tactics
Basically both teams' top priority is to get as many camping sites as possible and wreak havoc for your opponents until you steal their flag and bring it to your flag. With more camping locations it is a lot easier since you will be able to defend the flag and pick off people from the opposing team who is trying to retrieve the flag. Since Alpha hill is such a great camping spot often times noobs will just camp there and won't leave the hill. With less players from alpha on the rest of the map the players who don't fail will get overwhelmed and this is why Alpha has a disadvantage. On the other hand if Alpha is able to take points all over the map but more specifically on the bottom left corner alpha players will be able to rush the flag more often because that area is close to the tunnel.
Bravo Tactics
Bravo's main tactic is also to get people everywhere possible but more specifically the tower and the top right corner of the map. People on the tower can snipe most of alphas areas and have the best view of Alpha players who are running with the flag than any other position on the map from any of Alpha's flag retrieval routes (except for the route that goes through Bravo spawn and if people who are spawning there fail to kill someone running through this route then chances are your team is fail). It is a lot harder to get the flag if you are on bravo team since alpha hill is such a great camping spot so you will need suppressing fire from as many camping locations on the map as you can control when someone takes the flag.
General Area guide:
Note that most of the information from the Elimination still applies here and if something is not listed below then you can assume that the information in the elimination part of the guide is more or less the same and should be referred to if you want to know more about a particular section of the map.
C4:
H5:
D6:
F6:
G7:
E8:
I10:
Disclaimer:
Although the pictures are from strategy wiki everything else is my own work and should not be posted elsewhere without giving credit to me (other than the fact that Combat Arms is owned by Nexon).